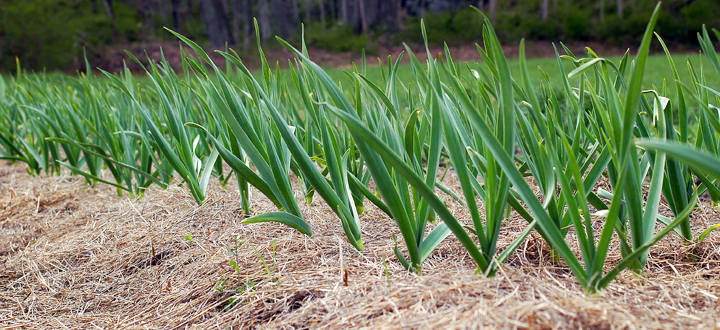 Our Garlic:
Porcelains:
Music: An outstanding plant producing very large bulbs. Strong, robust plants stand out in the garden. A sweet and substantial garlic when baked. Hot when consumed raw. A Bestseller, and very hardy in our climate. Average 4-6 cloves.
Northern Quebec: Strong growing in a wide range of climates and conditions, making it a good choice for gardeners and farmers. Slender, regal leaves and a well curled scape. Northern Quebec has a greater tolerance for wet and dry soils than most Porcelains. Average 4-6 cloves.
Purple Stripes:
Chesnok Red: Chesnok Red holds shape and retains flavor when cooked. Great choice for baking with a creamy texture. Slender and well formed cloves with striking purple streaks. Average 8-12 cloves.
Marbled Purple Stripes:

Duganski: Large bulbs, intense purple coloring and unbeatable flavor. The unwrapped cloves retain the violet coloring of the outer wrappers. Flavor is firey but with a mellow and smooth aftertaste. Averages 8-10 cloves.
Irkutsk: A very hot, spicey garlic. Pastel shades of purple on nice wrappers. These are one of our most popular varieties! Averages 8-10 cloves.